NB006# 2020 European and American hot pig, piggy pink piggy girl, spring foreign trade children's dress pure corduroy Girl Dress export
size

height:92cm
height:98cm
height:104cm
height:110cm
height:116cm
color
Buyer Protection

30 Day Returns Guarantee
Full or partial refund if the item is not as described
Full refund for damaged items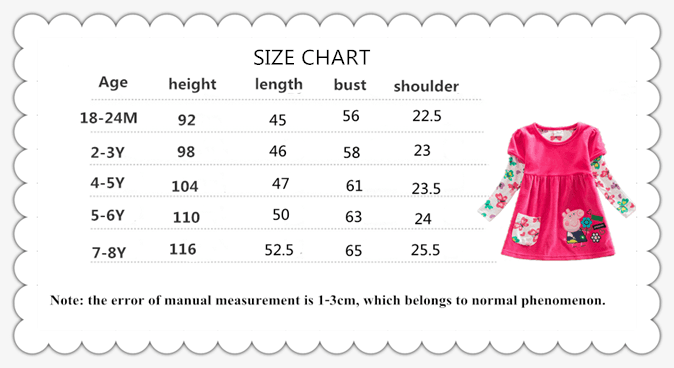 2020 European and American hot pig, piggy pink piggy girl, spring new style children's wear pure corduroy girl dress, exclusive export, pure corduroy girl dress, colorful, beautiful style, piggy page vivid and lovely, is 2-6 years old. Exclusive for children and girls, pure corduroy girl's dress, practical in spring and autumn, safe, comfortable and elegant to wear, round neck pullover, long sleeve Pleated Dress, cheap and good value for money.
·Product information:
·Fabric: 95% cotton, 5% polyester (polyester)
·Commodity weight: 0.6kg/piece
·Suitable age: 1 year old, 8 months to 6 years old.
·Product color: Pink / Black
·Product size: suitable for girls with height of 92cm-116cm
·Commodity style: long sleeve round neck Pullover pure corduroy girl's dress
·Safety level: A
·Washing method: it is not suitable for machine washing, sharp object stabbing and hanging, and it is better to wash by hand
Pure corduroy girl's dress,:

2 / 3 / 4 / 5 / 6-year-old children and girls,Piggy Paige dress,Peach / sapphire,Cotton polyester blend,Medium length,Printed round neck Pullover dress,Real product map,Solid, slim,,Spring and autumn season,Long sleeve Pleated Dress,Spot stock,Main sales channels: Europe and the United States,Order Booking,Home Express,Prompt delivery
Your cart is currently empty.