ML005# Autumn New 2020 Lapel Knitted Sweater Dress Simple Fashion Pure Color Thinner Mid-length Long Skirt Women Trendy, Winter Sweater Long Skirt, Sweater Knitted Long Skirt, Ladies Long Skirt, Lapel Ladies Long Skirt
Buyer Protection

30 Day Returns Guarantee
Full or partial refund if the item is not as described
Full refund for damaged items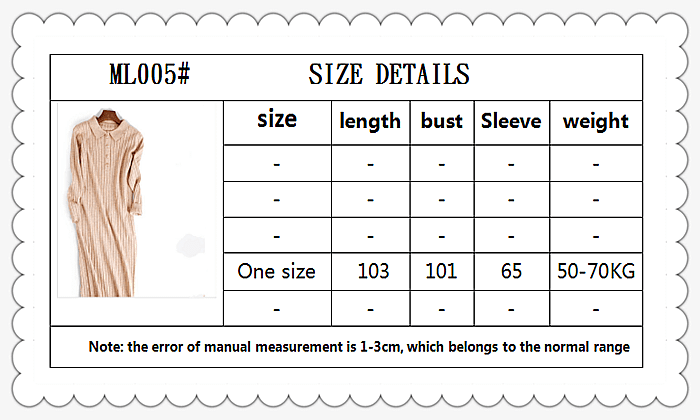 The latest lapel knitted sweater dress for autumn is simple and fashionable. Pure color is thinner. Mid-length long skirt for women, slim knit long skirt, winter knit long skirt, pullover knit dress, blended, pullover, solid color, lapel, slim type, mid-waist, regular sleeves, Flat knitting, normal length, Korean version, splicing/viscose knitting stripes, OL commuting, spot, comfortable, soft and warm, precise knitting, hot-selling in the global market,
Product Details:
·Color: Apricot/Black
·Size: Free size (skirt length 103cm/ bust 101cm/ shoulder and sleeve 65cm/ collar 15cm)
· Fabric: Viscose fiber blended (dry cleaning recommended)
·Weight: 0.60KG
·Suitable: Friends aged 28-45
product Index
·Thickness index: moderate
·Type index: Slim
·Elasticity index: high elasticity
·Softness index: soft
Main sales areas: Europe, North America, South America, Middle East, Africa, Northeast Asia, Southeast Asia
Washing instructions: no dry cleaning, no bleaching, no machine washing, dry cleaning is recommended, low temperature ironing, hanging to dry
Your cart is currently empty.