Christmas family suit parent-child 2020 autumn and winter clothing hooded cartoon printed sweater, Christmas clothing, Christmas women's clothing, Santa Claus
color

Red
grey
Pink
yellow
lake blue
Black
Sky blue
white
Purple
orange
Green
size

3XL Family wear (2 adults + 1 child)
2XL Family wear (2 adults + 1 child)
XL Family wear (2 adults + 1 child)
L Family wear (2 adults + 1 child)
M Family wear (2 adults + 1 child)
S Family wear (2 adults + 1 child)
Buyer Protection

30 Day Returns Guarantee
Full or partial refund if the item is not as described
Full refund for damaged items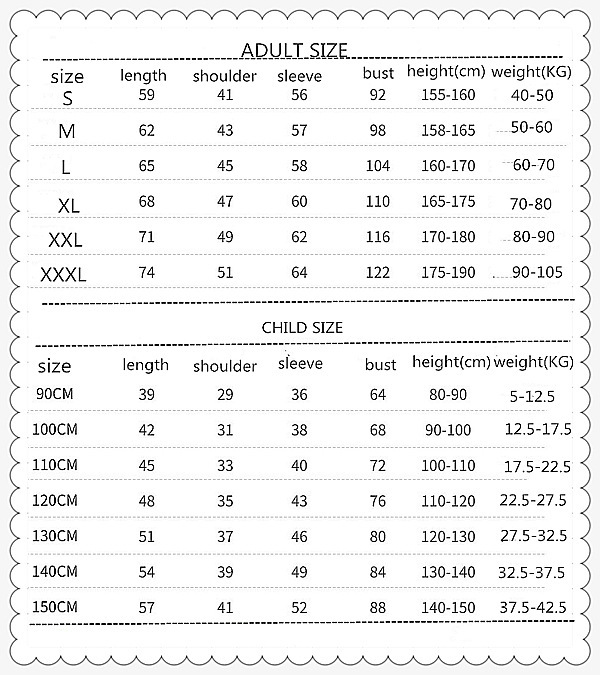 This product is sold as a family suit (i.e. 2 adults + 1 child, if one child is added, the cost will increase by $10, and so on). The color and size are optional. Please note the size and color when you buy, and increase the size of the product,

European and American cross-border Christmas parent-child clothing 2020 autumn and winter clothing hooded sweater family of three and four family suits, Christmas clothing, Christmas gifts, Santa Claus, material is 100% cotton, hooded sweater, hedging, long sleeves, printing/printing, Cartoon pattern, casual style, family wear, thin style, soft treatment, suitable for winter and autumn basic style, one-piece, street style, spot, European and American monopoly, AQL sampling standard 2.5, safety level B
Product Details:
·Color:Black / lake blue / yellow / Pink / Grey / sky blue / Green / orange / Purple / white
·Size: (adult) S/M/L/XL/2XL/3XL (Children) 90cm/100cm/110cm/120cm/130cm/140cm/150cm
·Fabric: 100% cotton (hand wash is recommended)
·Weight: 0.35KG
·Suitable: Friends aged 28-45
product Index
·Thickness index: conventional
·Type index: Slim
·Elasticity index: slightly elastic
·Softness index: soft
Main sales areas: Europe, North America, South America, Middle East, Africa, Northeast Asia, Southeast Asia
Washing instructions: no dry cleaning, no bleaching, no machine washing, dry cleaning is recommended, low temperature ironing, hanging to dry
Your cart is currently empty.